The Dynamics NAV  Credit Card solution
Easy. Secure. Fully Integrated.
Currently available only for businesses located in the USA and Canada.
Don't let credit card processing take over your day
Are you selling products to businesses or consumers? Are you selling subscriptions? Are you providing professional services? No matter the industry, your customers expect to be able to pay via credit card. Your customers also expect their credit card information to be secure. And you expect credit card processing to be simple to setup and simple to use.
If you have already researched a way to start processing credit cards for your customers, you might have noticed that it can be far from easy. You have so many different options to choose from, which impact your fees greatly. And not all possible solutions can be integrated with Dynamics NAV.
Introducing NAV-X Credit Card: the credit card solution for the modern business
easy
In just a few minutes, you can setup your app and start processing credit card transactions. And processing your transactions is just as easy.
secure
Your customers' data is always stored safely on the credit card gateway's system to protect you and your customer .
fully integrated
Credit cards can be charged automatically when an order is shipped and invoiced. Refunds can be processed with the click of a button.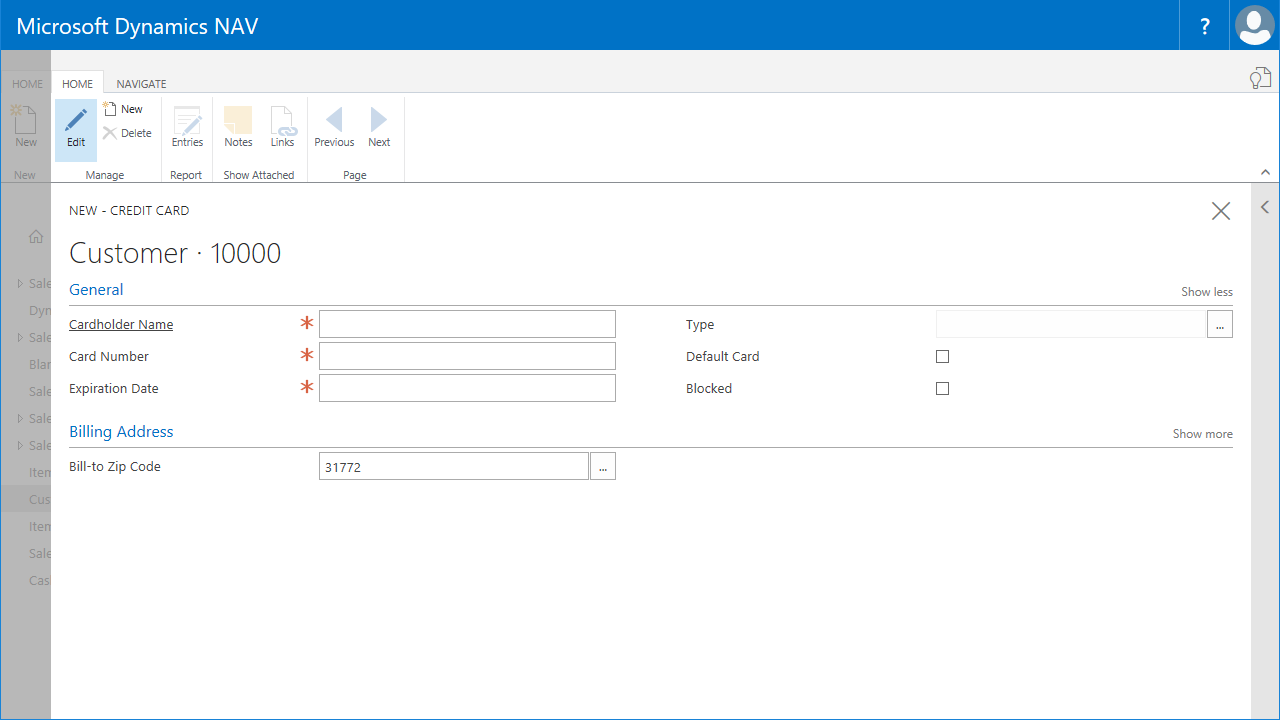 Security is key
Your customer's credit card data is completely secure. Once entered in the system, the credit card information is tokenized and only stored as a masked credit card number and a token within Dynamics NAV.
Dynamics NAV Credit Card Processing is fully PCI compliant.
Multiple Merchants
You can use multiple merchants in one company to process different divisions or stores or currencies in different merchant accounts.
workflows
When credit card authorizations fail, a workflow can alert different users to take action and work with the customer to correct the issue.
Split payments
Multiple credit cards can be charged for one single transaction to split payments for orders or invoices.
online payment replacement
Our credit card solution can work with your existing Microsoft Online Payments functionality and migrate the credit card information.
Online entry
Customers can enter their credit card information online and secure themselves. No need to ask for their credit card information over the phone.
Address Verification
When transactions are processed, address verification is performed to validate credit cards and reduce credit card fraud.
integration
eCommerce Solutions are easily integrated via predefined integrations or web services within Dynamics NAV.
Easy and automated
No day end processing required. Batches can close automatically. No separate settlement necessary.
Online payment
After customers receive their invoices via email, they can pay their invoices via credit card online and secure through the payment processor's online portal.
PCI Compliance
Credit Card information is tokenized. Sensitive information is never stored in your Dynamics NAV system to keep you in PCI compliance.
low processing fees
Our payment gateway offers you some of the lowest credit card processing fees in the country.
and much more
These are only a few of the available features in NAV-X Credit Card.
"NAV-X Credit Card is the credit card solution we have been waiting for. It is easy to implement for our customers and allows the users to focus on their daily processes and have credit cards processed automatically in the background."
- Peter Zentner, Clients First Business Solutions
Learn more about our state of the art credit card solution